da-vinci robot
The most important tool a surgeon has is a pair of steady hands. And a growing number of Phoenix-area surgeons now use their hands to grip a joystick-like device instead of a knife or a scalpel. The device controls a robot called "da Vinci," which does most of the work on procedures such as hysterectomies or prostate removals.
About a dozen Phoenix-area hospitals now use these robots for common surgeries because they result in less pain, minimal scarring and a quicker recovery for patients.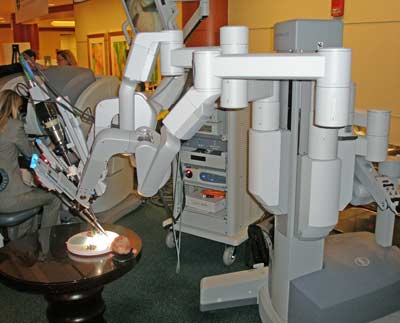 The da Vinci is now the most common method for removing prostates. The company expects the robot will be used for 75,000 prostatectomies worldwide this year, up from 32,000 such procedures in 2006. The second most common use is hysterectomy, and the device has been used for cardiac procedures.
Intuitive representatives said Scottsdale Healthcare was the first Arizona hospital system to purchase a da Vinci in 2001. Now, several hospital systems have versions of the robot, including Mayo Clinic, John C. Lincoln, St. Luke's, West Valley Hospital and several Banner hospitals. The device costs from $1.5 million to $1.6 million, depending on the model.
West Valley Hospital surgical director Noelle Pereira praised its ease of use. The Goodyear hospital is expanding its robotic surgery options to hysterectomies, and kidney and bladder removals.
More than 100 men with prostate cancer have been treated at West Valley Hospital with the da Vinci since 2005, according to Pereira. The results include a shorter hospital stay for patients, fewer risks for infection and faster return to normal daily activities.
Rather than getting a 6- to 8-inch incision from the lower pelvis to the bellybutton for most abdominal surgeries, patients receive six half-inch incisions where laparoscopic instruments are inserted.
During the procedure, the surgeon guides the tools from the console, watching images of the organs captured by a miniature video camera that can zoom in and out.
The new technology gives surgeons a better view of the organs and more precise maneuvering. Patients benefit by leaving the hospital within 48 hours and getting back on their feet in three to four weeks, about half the typical time for an open surgery.
Banner Heart Hospital launched its robotic surgery program in 2006 and expanded it to Banner Baywood Medical Center in 2007, offering gynecologic, urologic and general surgeries.
All surgical disciplines are looking toward a more-minimally, less-invasive approach.